Mar. 12, 2020 | Important Announcement Regarding Campus Operations
The Alexey von Schlippe Gallery will be open to the public March 12–15, 2020, from 12–4 p.m. This is the closing weekend for Elizabeth Ellenwood's exhibition, Among the Tides.
The Gallery will be closed to the public beginning on March 16, 2020 until at least April 8, 2020. For updated visiting hours and information, please email our director at charlotte.gray@uconn.edu. Visit our public information page for more information regarding other campus operations at this time.
"The Fabulous Lives of Morton, Nellie, and Maisie Plant: Art and Leisure in Gilded-Age Groton"
May 10 - June 9, 2019
Opening Reception: Tuesday, June 4, 5:00 - 7:00pm
An elegant Fifth-Avenue mansion in Manhattan traded for a single pearl  necklace; a daring yacht race against Kaiser Wilhelm II after which the     German emperor apologized for his poor sportsmanship; and an unrestricted cash gift of one million dollars offered to Connecticut College in order to  adjourn a board meeting in time to attend a baseball game. These are but a few of the many captivating stories about Morton F. Plant, a steamship and railroad magnate who contributed to the culture of Groton and New London in the early twentieth century. A philanthropist, avid gardener, competitive yachtsman, baseball enthusiast, and much more, Plant also built the Branford House, his summer estate in Groton that now belongs to the University of Connecticut, Avery Point, and houses the Alexey von Schlippe Gallery.
This exhibition, "The Fabulous Lives of Morton, Nellie, and Maisie Plant: Art and Leisure in Gilded-Age Groton," is about more than just Morton Plant and his impact on the Connecticut shoreline. The show also focuses on Morton's first wife Nellie — a trained architect who designed the Branford House inside and out — and Morton's second wife Maisie, a fashionable New York socialite whose important role in the history of art collecting is little-known. Featuring some three dozen historic photographs, rare books, and Old Master paintings (reproduced in  facsimile), the exhibition explores the fascinating lives of Morton, Nellie, and Maisie Plant in Gilded-Age Groton.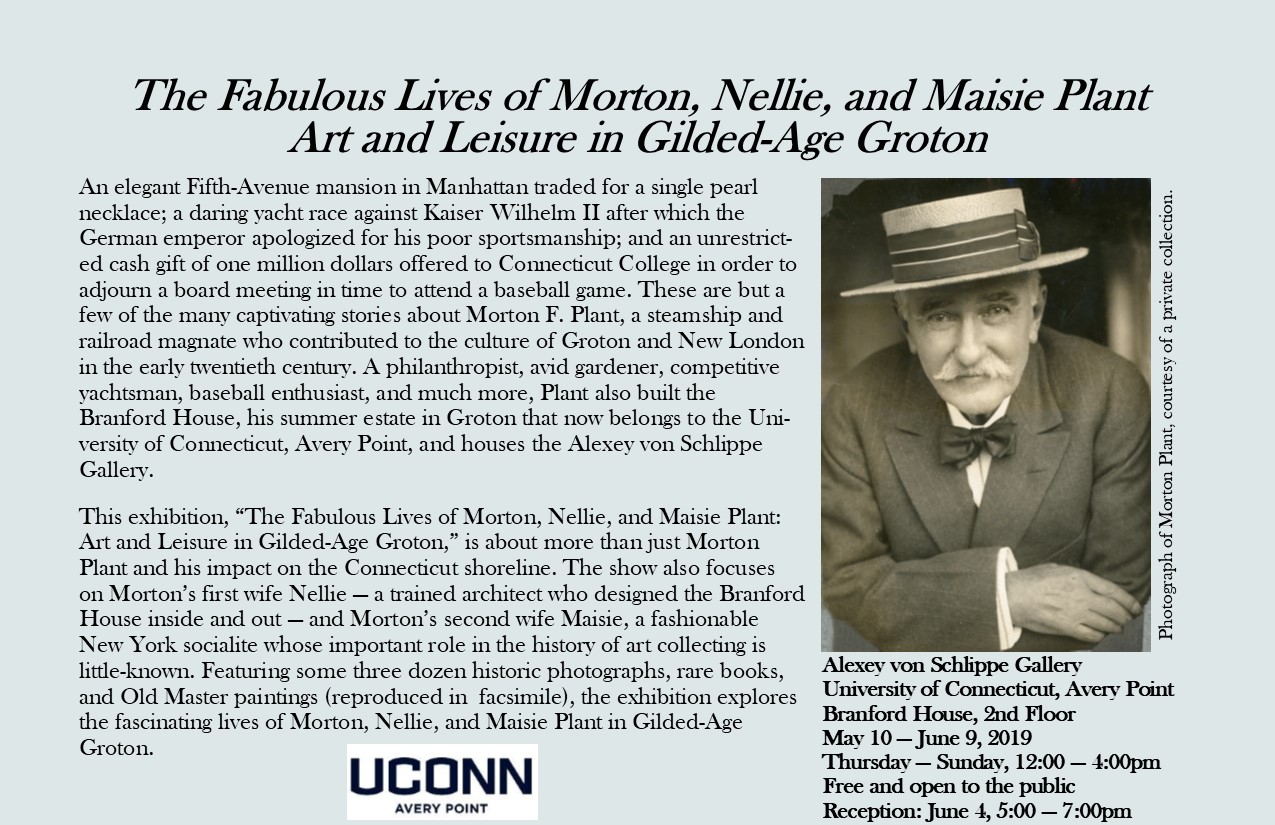 Past Exhibitions
"Crosscurrents: A Connecticut Sea Grant Art Exhibition"
January 24 - April 7, 2019
"Crosscurrents" celebrates the ground-breaking, multimedia work of 13 artists whose creations have enhanced awareness of Connecticut's coastal environment and maritime heritage. For ten years Connecticut Sea Grant has promoted the understanding and appreciation of the marine environment of Long Island Sound through its competitive Arts Support Awards Program, which funds the creation of works by individuals or groups active in the visual, literary, or performing arts. The Program has encouraged the production of art that explores important environmental and social issues facing marine and maritime communities. This exhibition offers a vibrant visual dialogue that reflects the beauty and complexity of our local natural heritage.