May 27, 2020 | Call for Artists
Open Air: An Exhibition of Sculpture and Installation Art at UConn, Avery Point
July 9—August 31, 2020
Submission Deadline: June 15, 2020
The Alexey von Schlippe Gallery of Art seeks proposals for temporary sculpture and/or light projection installations on the grounds of the University of Connecticut, Avery Point campus located in Groton, CT. Our goal is to assemble a dynamic set of artworks—some visible by day, some after nightfall—that will reinstate the presence of in-person art exhibitions during this unprecedented time of limited public activity.
Themes for proposals may include, but need not be limited to: marine life, maritime history and culture, the ecology and environment of Long Island Sound, and responses to our campus architecture and dramatic shoreline setting. Please use Google Streetview to scout potential locations for your proposed installation. More information about our campus may be found at averypoint.uconn.edu.
Parameters
works in all media will be considered
artists must be willing to assist in delivery and installation of works. A modest budget for installation will be provided by the von Schlippe Gallery.
works must not invite or require viewer interactions that violate social-distancing regulations for outdoor spaces
the selection committee will consider works intended for long- or short-term installation. For example, proposals may be for a multi-week installation, or a series of 3, 2-hour evening projections, etc.
works must be designed to withstand (or respond to) the sometimes-windy conditions of the shoreline campus
Submission Requirements
Please submit the following materials as a single PDF to Charlotte Gray, curator and director of the Alexey von Schlippe Gallery, at charlotte.gray@uconn.edu:
description of proposed work(s) (max. 2 pages)
artist statement (max. 1 page)
photographs, designs or other renderings of proposed works; links to audio-visual files if applicable
installation requirements
proposed dates (between July 9 and August 31, 2020)
Selection Process
Works will be selected by a committee convened by the von Schlippe Gallery. Artists will be notified of selection by June 22, 2020.
Deadline for Submission: June 15, 2020. QUESTIONS? Please email charlotte.gray@uconn.edu
May 3, 2020 | Gallery Temporarily Closed
Due to COVID-19, the Alexey von Schlippe Gallery will be closed to the public until further notice. For virtual Gallery offerings and news, please follow us on Instagram: @avsgalleryuconn. For additional information, please email our director at charlotte.gray@uconn.edu.
"The Fabulous Lives of Morton, Nellie, and Maisie Plant: Art and Leisure in Gilded-Age Groton"
May 10 - June 9, 2019
Opening Reception: Tuesday, June 4, 5:00 - 7:00pm
An elegant Fifth-Avenue mansion in Manhattan traded for a single pearl  necklace; a daring yacht race against Kaiser Wilhelm II after which the     German emperor apologized for his poor sportsmanship; and an unrestricted cash gift of one million dollars offered to Connecticut College in order to  adjourn a board meeting in time to attend a baseball game. These are but a few of the many captivating stories about Morton F. Plant, a steamship and railroad magnate who contributed to the culture of Groton and New London in the early twentieth century. A philanthropist, avid gardener, competitive yachtsman, baseball enthusiast, and much more, Plant also built the Branford House, his summer estate in Groton that now belongs to the University of Connecticut, Avery Point, and houses the Alexey von Schlippe Gallery.
This exhibition, "The Fabulous Lives of Morton, Nellie, and Maisie Plant: Art and Leisure in Gilded-Age Groton," is about more than just Morton Plant and his impact on the Connecticut shoreline. The show also focuses on Morton's first wife Nellie — a trained architect who designed the Branford House inside and out — and Morton's second wife Maisie, a fashionable New York socialite whose important role in the history of art collecting is little-known. Featuring some three dozen historic photographs, rare books, and Old Master paintings (reproduced in  facsimile), the exhibition explores the fascinating lives of Morton, Nellie, and Maisie Plant in Gilded-Age Groton.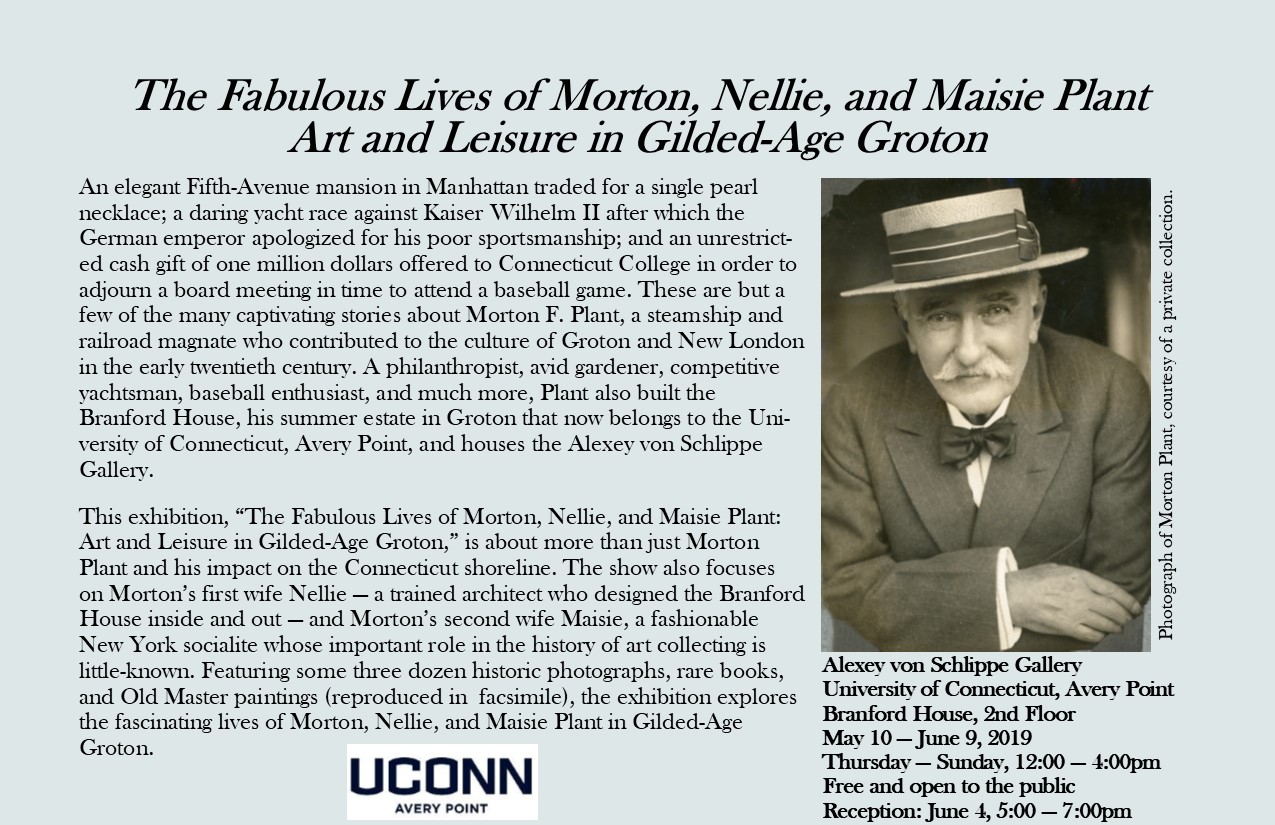 Past Exhibitions
"Crosscurrents: A Connecticut Sea Grant Art Exhibition"
January 24 - April 7, 2019
"Crosscurrents" celebrates the ground-breaking, multimedia work of 13 artists whose creations have enhanced awareness of Connecticut's coastal environment and maritime heritage. For ten years Connecticut Sea Grant has promoted the understanding and appreciation of the marine environment of Long Island Sound through its competitive Arts Support Awards Program, which funds the creation of works by individuals or groups active in the visual, literary, or performing arts. The Program has encouraged the production of art that explores important environmental and social issues facing marine and maritime communities. This exhibition offers a vibrant visual dialogue that reflects the beauty and complexity of our local natural heritage.