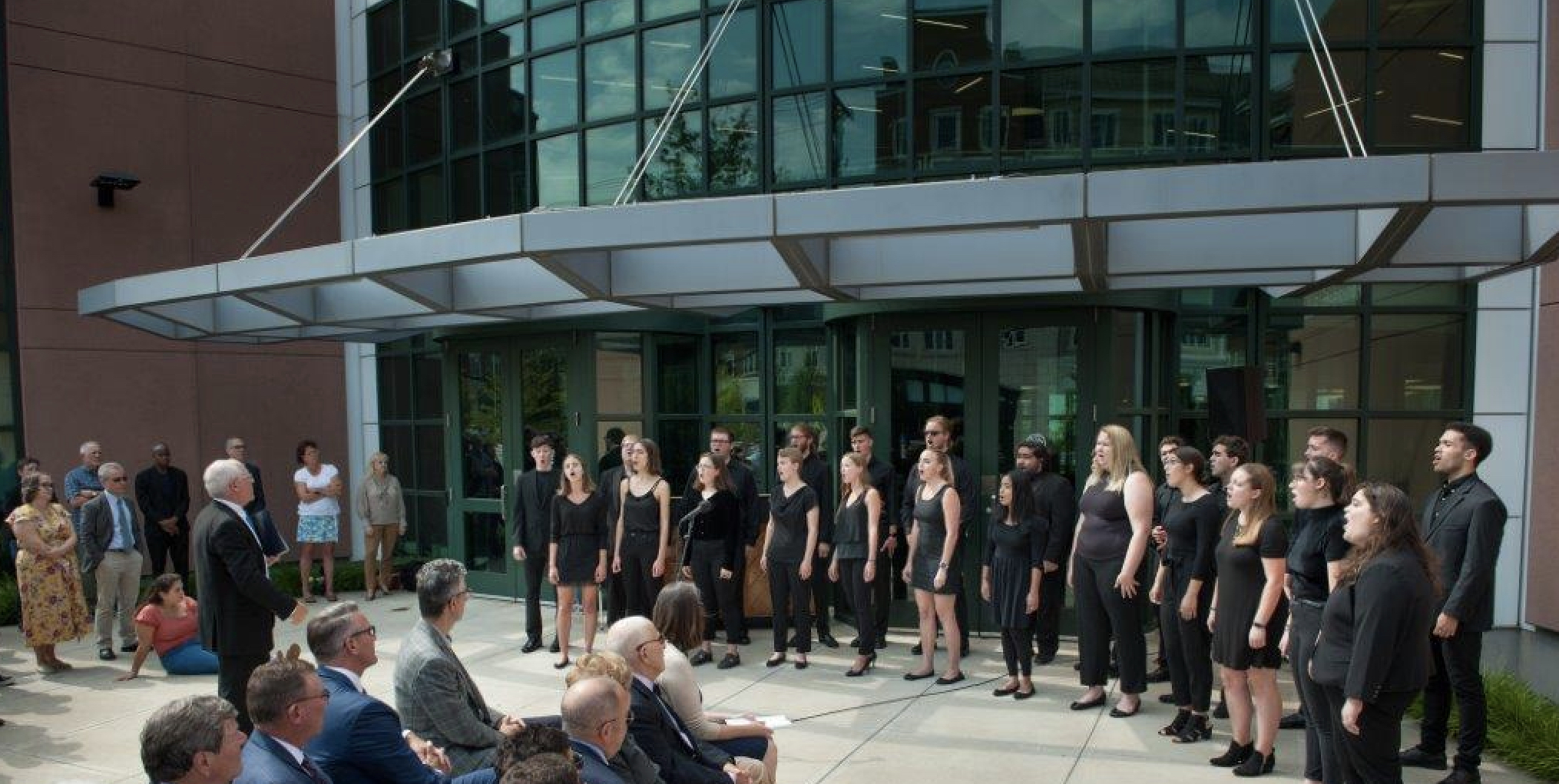 Support the School of Fine Arts
As an acclaimed professional school and the center of cultural life at the University of Connecticut, the School of Fine Arts is committed to providing superb education as well as engaging arts exhibits and performances. The school endeavors to grow and continue to be a magnet for artists and intellectuals across the region.
The School of Fine Arts enriches the cultural life of the University of Connecticut community, as well as the state, providing an artistic environment that offers unique expressions of emotion, intellect and spirit. In addition to our stellar academic programs in Dramatic Arts, Music, Art & Art History, and Digital Media & Design, the UConn School of Fine Arts is also home to the Ballard Institute & Museum of Puppetry, William Benton Museum of Art, Connecticut Repertory Theatre, von der Mehden Recital Hall, Jorgensen Center for the Performing Arts, and Contemporary Art Galleries. As UConn continues gaining national recognition for excellence, the School of Fine Arts is playing a key role in the University's ascendance into the list of top 20 public institutions.
Student Success Stories
Two UConn students, though, wanted to help their peers build supportive connections during this time of uncertainty and physical distancing, and they're doing so with the creation of an online platform, Refreshr.
"With mental health, it's sometimes hard for students to support each other," says Alex Kim '22 (BUS), who co-founded Refreshr with friend, Jamison Cote '22 (SFA). "Last semester was definitely just weird, and unprecedented, and crazy. Entering this semester and the coming semesters, it's still going to be different – it's a new way, how we learn and how we interact with other people. With such a drastic change, we still need to be able to be resilient as students and to be able to support each other, because we're going to need it the most, especially during a time like this."
Featured Alumni
"I found my current position through a UConn DMD alum on LinkedIn. We had the same exact major, concentration, and minor at UConn Stamford so we knew each other well since we had plenty of classes together. She posted that her company was hiring a Digital Marketing Coordinator. I messaged her so fast so that I could learn more about the position and the company. The best part about doing my research about the company before/during the interview process was how much it felt like home, maybe it's the fact that the CEO is also a proud UConn alum!" - Isabella Montenegro '19
Isabella (she/her/hers) earned a Bachelor's degree in Digital Media and Design, a concentration in Digital Media Strategies for Business, and a minor in Women's, Gender, and Sexuality Studies from the School of Fine Arts in December 2019. Since graduation, Isabella has gone on to pursue a graduate certificate in Digital Marketing and Storytelling from Experience Lab at UC Berkeley and secure a full-time position with Logicbroker as the Digital Marketing Coordinator. Hear Isabella's story and how she took advantage of the location and resources of the UConn Stamford campus to get to where she is today.
Share your alumni stories and news!
Reach out to our advancement team at any time. We're here to help share all of the inspirational success stories of SFA alumni. 
Director of Alumni Relations
Emily Auger Murray
emurray@foundation.uconn.edu
860.931.1554
Director of Development
Lauren Prause
lprause@foundation.uconn.edu
860.576.6828