A Message from Anne D'Alleva, Dean, School of Fine Arts
Presenting The University of Connecticut's Alma Mater
Emanuel A. Cruz '20 Sings the Star Spangled Banner
Emanuel is a senior in the music department graduating with a degree in voice.
2020 Banner Carrier | Tracy Ann Becker
Each year, the role of banner carrier rotates departments. The student with the highest cumulative grade point average in that department is given the honor of carrying the School of Fine Arts banner as they lead the procession into the Commencement Ceremony. This year's department is Dramatic Arts, and this year's banner carrier is Tracy Ann Becker.
2020 Class Print
Each year, the Art & Art History faculty in printmaking select a graduating senior to produce a limited edition print to honor the graduating class. This year's class print artist is Addicus O. Bagwell.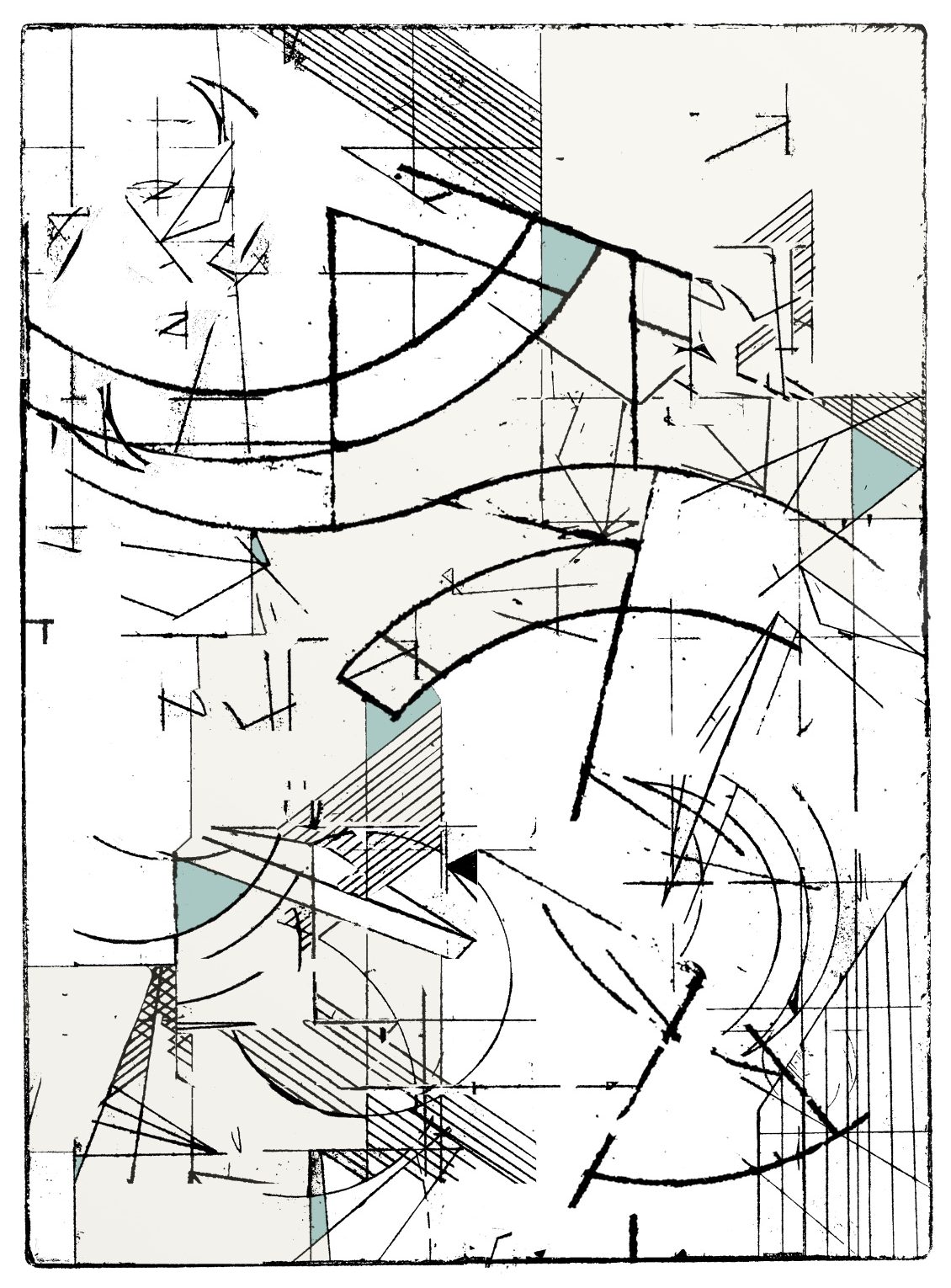 Artist Statement
This print was created by arranging and altering scanned images of my hand-printed etchings in the computer. I decided on a final composition and transferred it onto a photosensitive letterpress plate that was then inked and printed on an antique proof press. The network of lines in this abstract image might initially appear chaotic, like a disjointed map or senseless diagram. But amidst the chaos a suggestion of structure and order emerges. These directional lines can serve as a metaphor for the various connections, opportunities and experiences we've gained during our time at UConn. The print reflects the beauty I see in the networking process – whether it involves making friends in the studio, participating in student activities, or attending educational events and gatherings. Every individual has experienced UConn differently, but we are all moving forward into the future together.
Artist Biography
Addicus Bagwell is from Mansfield, Conn. and is receiving his BFA degree with a concentration in graphic design. He held an internship at the Brooklyn Shoe Space in New York City and also worked in the Adidas Maker Lab at HypeFest in Brooklyn, New York. Addicus has a special interest in traditional shoemaking and design, and plans to study at Accademia Riaci, a shoe making academy, in Florence, Italy following commencement.
From SFA's Hearts to Yours
The entire School of Fine Arts community, including alumni, donors, faculty, staff, and friends, all extend our warmest wishes to the class of 2020. Although we're not physically together to celebrate commencement today, we look forward to seeing everything you accomplish as you enter the world as a Husky alum! Check out these messages from some of your many supporters!
"To the class of 2020…
Please accept my heartfelt congratulations and my very best wishes as you begin a new and exciting chapter in your life. I am certain that you will be tremendously successful in all of your future endeavors. Please know that you have truly enriched my life and that I will forever cherish the memories that we have shared. Sending much love and gratitude."

—Professor John Mastroianni
Assistant Professor in Residence of Jazz Studies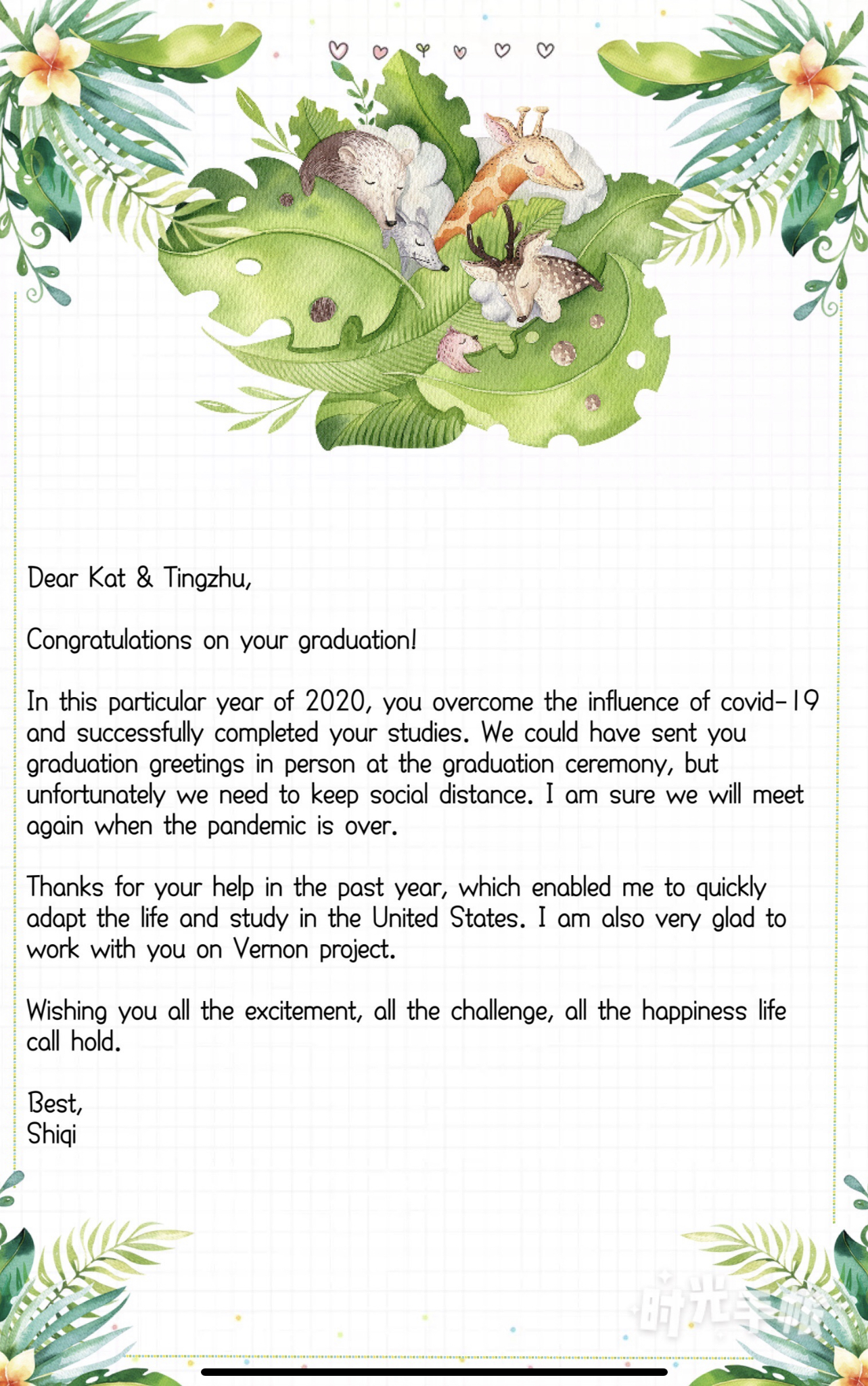 "To this year's graduating class…
Congratulations on all your accomplishments. This should be a time of great celebrating, but that, sadly, will have to wait. You are about to enter a world that is upside-down and severely damaged, but…your options and opportunities are endless. This historic crisis will eventually pass, and I hope that many of you will be the ones to help achieve that. Be motivated. Be innovative, and be successful at whatever you do. Congratulations again to you all."

—Ellen O'Shaughnessy '66
Ellington, CT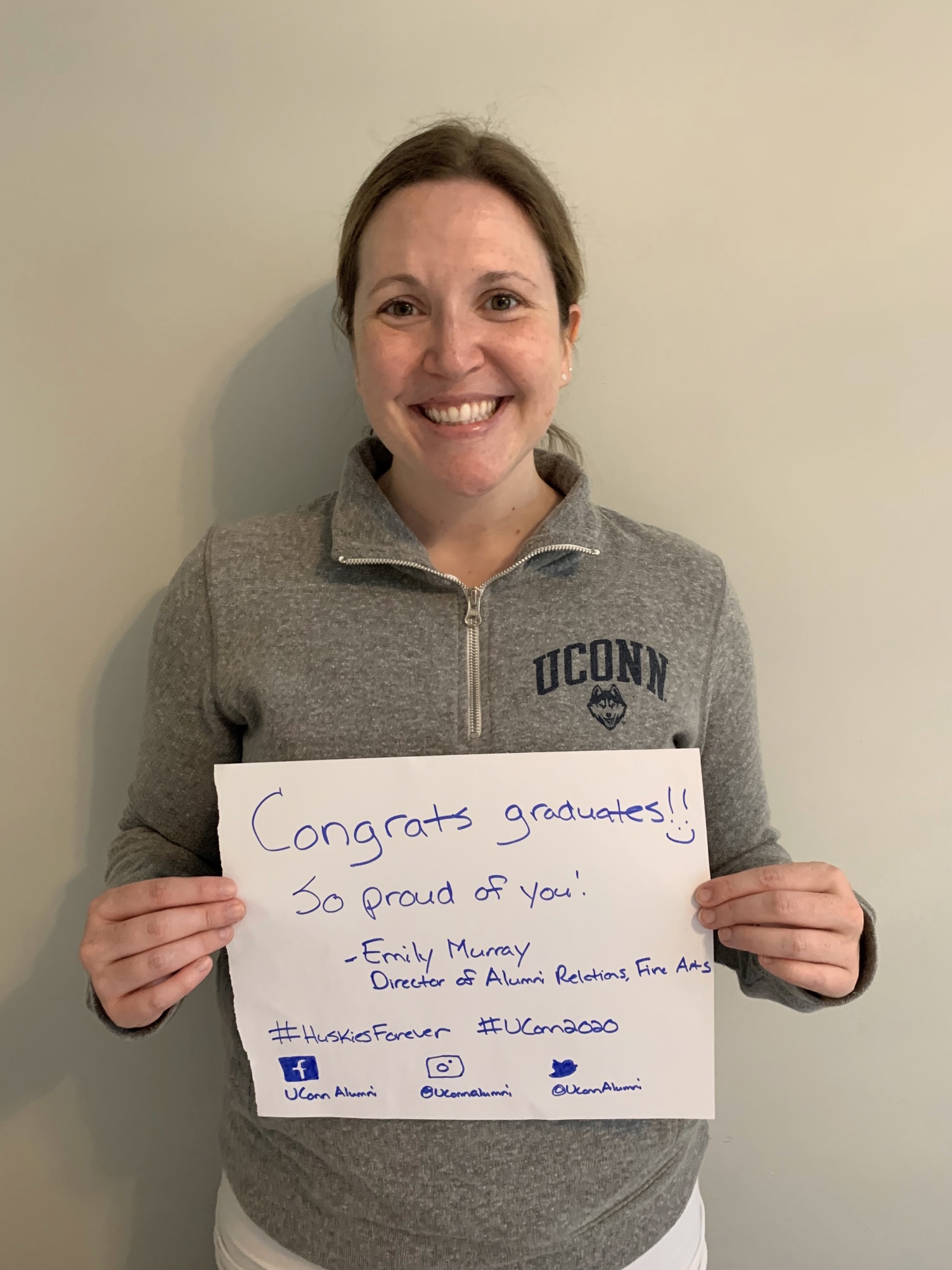 Outstanding Senior Women Academic Achievement Awards
The Provost's Office, UConn Alumni, and the Women's Center annually sponsor the Outstanding Senior Women Academic Achievement Awards Ceremony, which recognizes women undergraduate and graduate students who have excelled academically within each school/college and demonstrated high achievement in research and service to the University community. This year's recipient for the School of Fine Arts is Elizabeth C. Smith (Dramatic Arts).
2019 New England Scholars and Babbidge Scholars
New England Scholars and Babbidge Scholars are students of academic distinction.
To qualify as a New England Scholar, students must have earned at least a 3.700 (without rounding) semester grade point average for each of the Spring 2019 and Fall 2019 semesters. These students' names appear below with an asterisk next to them.
To qualify as a Babbidge Scholar, students must have earned a 4.00 (without rounding) semester grade point average for each of the Spring 2019 and Fall 2019 semesters. These students' names appear bolded below.
Art & Art History
Bachelor of Arts (Art History):
Shelby N. Bray, Elizabeth Marie Poland, Lian Tai-Zhi Russo, Emily Fuxi Worcester, Yuecheng Zing
Bachelor of Arts (Studio Art):
Haley Marie Comstock, Quan Zhou
Bachelor of Fine Arts (Graphic Design):
Caroline Hart Amberg, Addicus O. Bagwell, Natalie L. Baker*, Jonathan Barley, Olivia Christine Crosby, Emilie Cecile Dufresne, Edward Jong-Sien Ho, Margaret Josephine Hoynes, Deanna M. Lavoie*, Haley M. Stein, Connie Tao, Logan Indigo Tappe, Robert Akira Varszegi, Holly Zheng*
Bachelor of Fine Arts (Illustration/Animation):
Ashley Margaret Beals, Amber Rose Congdon, Desi Leclair, Angelis Marie Sanchez-Delvalle, Hallie Elizabeth Tedeschi
Bachelor of Fine Arts (Painting):
Isabelle Camillo, Emily Fuxi Worcester
Bachelor of Fine Arts (Painting/Drawing):
Savannah Lafleur
Bachelor of Fine Arts (Photography & Video):
Alexis M. Abbotts*, Hannah E. Smaglis*, Nora A. Villalobos
Digital Media & Design
Bachelor of Arts:
Orly R. Mobilio, Bryanna Lee Robertson
Bachelor of Arts (2D Animation):
Isaac Bilmes, Sean P. Bollman, Tianxiang Cai*, Thomas Carter*, Regan M. Kilkenny, Erica Lauer, Jacob Daniel Rodier*
Bachelor of Arts (3D Animation):
Noah C. Bernardi, Andrianna Kaimis, Trevor Brian Mandl, Jesse Moran, Victoria A. Nazworth*, Jerry D. Prince, Gary W. Silver, Ryan Jack Story, Nicole E. Torino, Rachel A. Wolther*
Bachelor of Arts (Digital Game Design):
Shane Michael Elliott, Benjamin Reay Guzik, Christopher Paul Janocha, Robert Thomas Lindquist, Matthew S. Tomaszewski
Bachelor of Arts (Digital Media & Design):
Christian John DeMarzo, Chloe Renee Senteio
Bachelor of Arts (Digital Media Strategies for Business):
Masrur A. Ahmed, Joshua R. Bibbey, Madison Ashley Busick, Austin James Carfi, Schuyler Matthew Chubet, Kailee Breanna Collins, Ian James D'Arcangelo*, Gerald Dewitt-Smith Jr., Lilly Elaine Fischer*, Hannah Mary Lauson, Ewelina Lemanski, Mia Elizabeth Marasco*, Carina Monheim, Isabella Agustin Montenegro, Sebastian Marek Nowogrodzki, Paula N. Plaza, Robert Z. Schlatter, Furu G. Sherpa, Linh Nghiem Tran, Dana Rane Wachsmuth*, Andre Marinho Waldeck, Tyler Edward Zemantic
Bachelor of Arts (Web & Interactive Media Design):
Emanuel Arceo, Lauren Marie Ciulla, Juwan Gregory Dumas, Christopher Antonio Glenn Jr., Lily Pashapour*, Tyrrell Akim Serrano, Brea Ayanna Frances Thomas-Young, Andrew Zhou
Bachelor of Fine Arts (2D Animation):
Eric Richard Fritz, Julian Kinney, Allison Sophie Marsh, Tal Joseph Modiano, Courtney Faith Senior, Sarah A. Shattuck, Sheryl Wang
Bachelor of Fine Arts (3D Animation):
Shay M. Albert, Owen T. Boyle*, Shawn Chen, Emma Rose Cooper, Nolan C. Didio, Jefferey C. Dobbs, Morgan T. Rossi, Justin K. Woods
Bachelor of Fine Arts (Digital Game Design):
Emily Angela Cesarini, Emily E. Touch
Bachelor of Fine Arts (Web & Interactive Media Design):
Anthony R. Cavuoto, Cynthia Reinert*
Dramatic Arts
Bachelor of Arts (Theatre Studies):
Nicole Isabella Goldstein, Cameron E. Kupernik
Bachelor of Arts (Theatre Studies – Dramaturgy & Directing):
Edmond Vitcavage
Bachelor of Arts (Theatre Studies – Dramaturgy and Theatre Administration):
Eilis S. Garcia*
Bachelor of Fine Arts (Acting):
Matthew J. Antoci, Alexandra Brokowski, Jack A. Dillon, Anthony Michael Giovino, Justin Michael Jager*, Elizabeth A. Jebran*, Angus Wadsworth Maclennan, Hunter Sherman Monroe, Elias Beck Sandlin, Adrianna M. Simmons, Elizabeth C. Smith, Harold T. Wendorff
Bachelor of Fine Arts (Design & Technical Theatre):
Dennis Even Akpinar, Mikayla M. Carr, Carleigh Jack Diamond, Zhiyan Liu, Austin Michael O'Brien, Gavin B. Parker, Kaitlyn Salerno, Morgan Dary Shea, Allison M. Zerio
Bachelor of Fine Arts (Puppetry):
Tracy Ann Becker*, Kimberly I. Daniels, Esme Roszel*
Music
Bachelor of Arts (Clarinet):
Brandon Halberg
Bachelor of Arts (Horn):
Sydney Abigail Fogarty, Elizabeth Catherine Ward
Bachelor of Arts (Music History):
Thomas Faust Del Conte, Andrew S. Frascarelli, Bronwyn Mary Reeve, Madison Ruta*, Jack H. Nighan*
Bachelor of Arts (Piano):
Brett Nolan Simms
Bachelor of Arts (Saxophone):
Adrienne Lillian Foret
Bachelor of Arts (String Bass):
Giana F. DiNatale*, Kurt Stoodt
Bachelor of Arts (Trombone):
Meghan Marian Canastar, Colton Thomas Kinney
Bachelor of Arts (Trumpet):
Jeremy Cruz, Daniel George Fagan, Austin Frandino, Braden Frandino, Conor James Leland, Lydia Rachel Carr Pettigrew
Bachelor of Arts (Vioin):
James Michael Lee, Olivia M. Miller, Mai Vestergaard
Bachelor of Arts (Voice):
Emanuel Alberto Cruz, Kayla Paige Fuhst, Jessica R. Gagne, Jonah C. Garcia, Kayla Gabriella Gitlin, Thomas Ward Linevitch, Sean Michael Millane Jr., Maria Cristina Murijacic, Skye Shogren, Spencer Sonnenberg, Michelle E. Wedge
Bachelor of Music:
Tristan Charles Pool
Bachelor of Music (Flute):
Kayla Victoria Blackburn
Bachelor of Music (Music Composition):
Michael Jeremy Melnik*
Bachelor of Music (Music History):
Jack H. Nighan*
Bachelor of Music (Percussion):
Jia Cai, Michael Jeremy Melnik*
Bachelor of Music (Saxophone):
Noah James Brisson
Bachelor of Music (Trumpet):
Micah Theodore Donley
Bachelor of Music (Vocal Performance):
Madison Ruta*
Art
Master of Fine Arts:
Olivia Baldwin, Elizabeth Ellenwood, Shadia Heenan, Chad Uehlein
Arts Administration
Master of Fine Arts:
Katya Beliavski, Min Kyung Kim, Tingzhu Pan
Digital Media & Design
Master of Arts:
Marie Leblanc
Master of Fine Arts:
Jonathan Ampiaw, Karin Ching, Stefan Lopuszanski, Laurel Pehmoeller, Jasmine Rajavadee
Dramatic Arts
Master of Arts in Puppetry
Neda Izadi
Master of Fine Arts in Acting:
Robert Barnes Jr., Alexandria Campbell, Victor Campos Miranda, Erin Cessna, Nikolai Fernandez,
Angela Hunt, Sierra Kane, Bryan Mittelstadt, Arjun Sebastian Nagpal, Roman Rewald
Master of Fine Arts in Design:
Jessica Haswell, Brittny Mahan, Toni Sterling, Kristen Zarabozo
Master of Fine Arts in Puppetry
Abigail Bosley, Margaret Flanagan, Thomas Getchell
Music
Master of Arts:
Simeon Brown
Master of Music:
Joshua East, Gregory Flower, Longino Villarreal
Doctor of Musical Arts:
Evan Glickman, Brian Stevens, Mo Tian