Austin and Braden Frandino and Professor Louis Hanzlik Featured on CBS Sunday Morning
Austin and Braden Frandino of Long Island, NY were members of professor Louis Hanzlik's studio/trumpet majors at UConn for the past four years. Braden, a Music and Communications Double Major, and Austin, Music Education. Their dad (Joe) is a producer for CBS Sunday Morning. For years, the famous "Abblasen Fanfare" (attributed to Gottfried Reiche, J.S. Bach's favorite trumpeter) has opened up the show.
Because they were graduating, Hanzlik arranged a trio version of the Abblasen, and edited together the Frandino brothers and Hanzlik playing it as a "surprise" to their dad. The CBS producers loved it so much, they opened the Father's Day national broadcast with it, and Joe Frandino had NO idea it was happening until he saw it that morning with his sons!
"This project was originally thought of early on at school, maybe sophomore year, after telling Dr. Hanzlik that my father was an editor/producer at CBS Sunday Morning. We originally discussed having the whole trumpet studio do a rendition of their theme, but because of busy schedules we could not get it done. In late April/early May of this year, Dr. Hanzlik brought up the idea to us over a zoom call – Myself, my brother and Dr. Hanzlik would perform an arrangement of the theme as a Father's Day gift for my dad and get it aired on TV.
"We figured now is a perfect time to do this project since we have time at home due to COVID. After a few weeks, Hanzlik wrote up an arrangement and we got to work on recording the audio and video. I then was able to get contact information for other editors/producers who work with my dad so we could secretly get the performance on air and surprise him. Everyone at CBS was on board and they thought it was a great idea. My dad loved it too when he watched this past Sunday!
"I could not be where I am today without my amazing professors, teachers and friends. Although I have always had a love for music, they taught me so many more ways to appreciate and enjoy it, and how I could become my own idea of what it means to be a musician and educator. Throughout my time, I've learned that there are always things to improve upon – and that goal-setting can be extremely useful for musicians. I will always hold what I learned from my teachers and friends close to me, as it has helped me grow as both a person and musician.
"Some advice for incoming Fine Arts students: Be proud of your major, especially at a school like UConn. Although the department is relatively small compared to the university, it is important to make the most of your program, and develop relationships with colleagues and faculty so you can reap all of the benefits from every member of the department. I have had some amazing and inspiring conversations with faculty in the hallways or after a rehearsal – they are always willing to talk and give great advice. Additionally, get involved around campus – you will be surprised at how many people you can find and relate to that aren't in your major. Bring them to a concert/show/gallery and I bet that they will appreciate it – some of my biggest supporters in college were friends in other majors."
–Austin Frandino
Michaela Abate, Maria Mandoiu, and Elise Vanase Receive IDEA Grants
Michaela Abate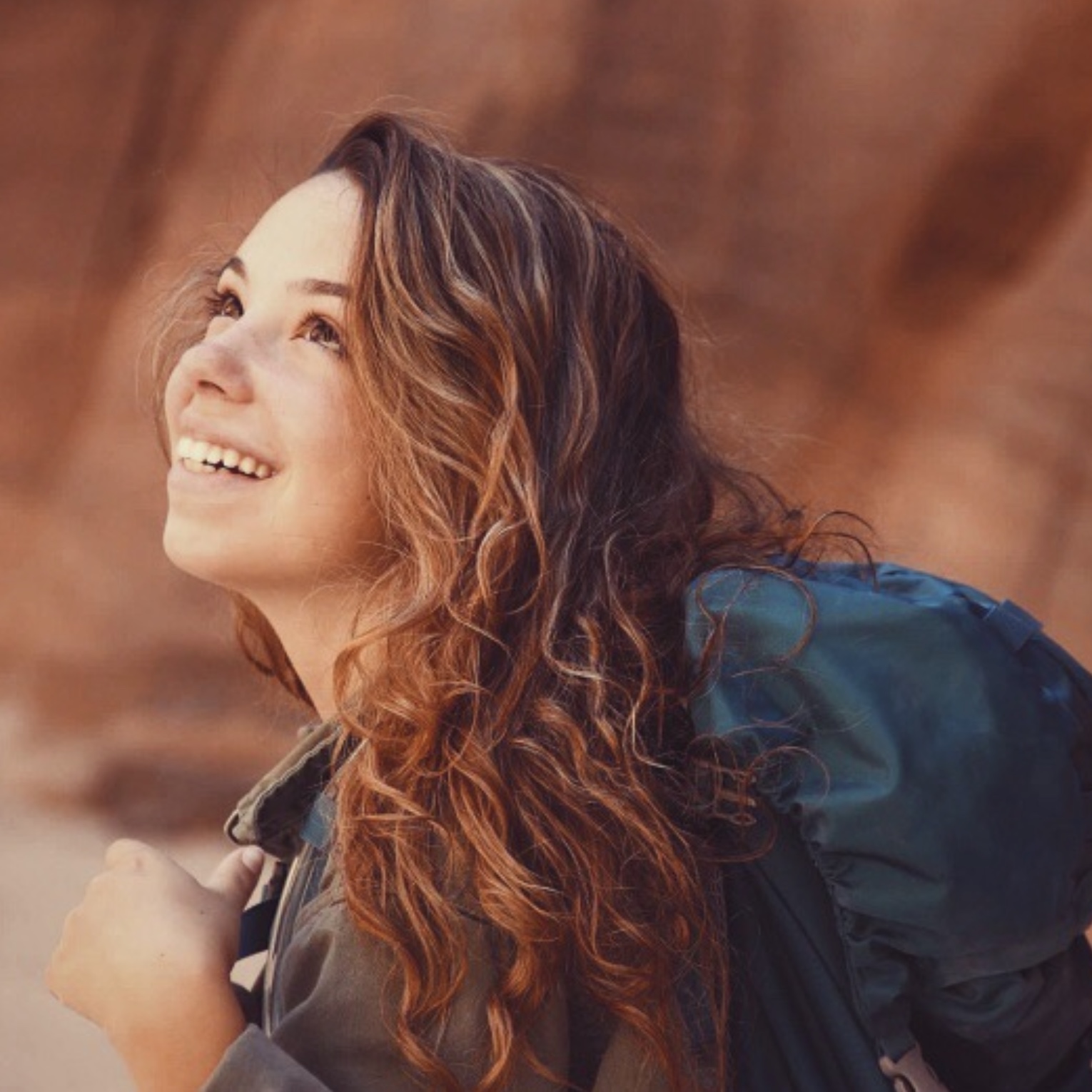 Maria Mandoiu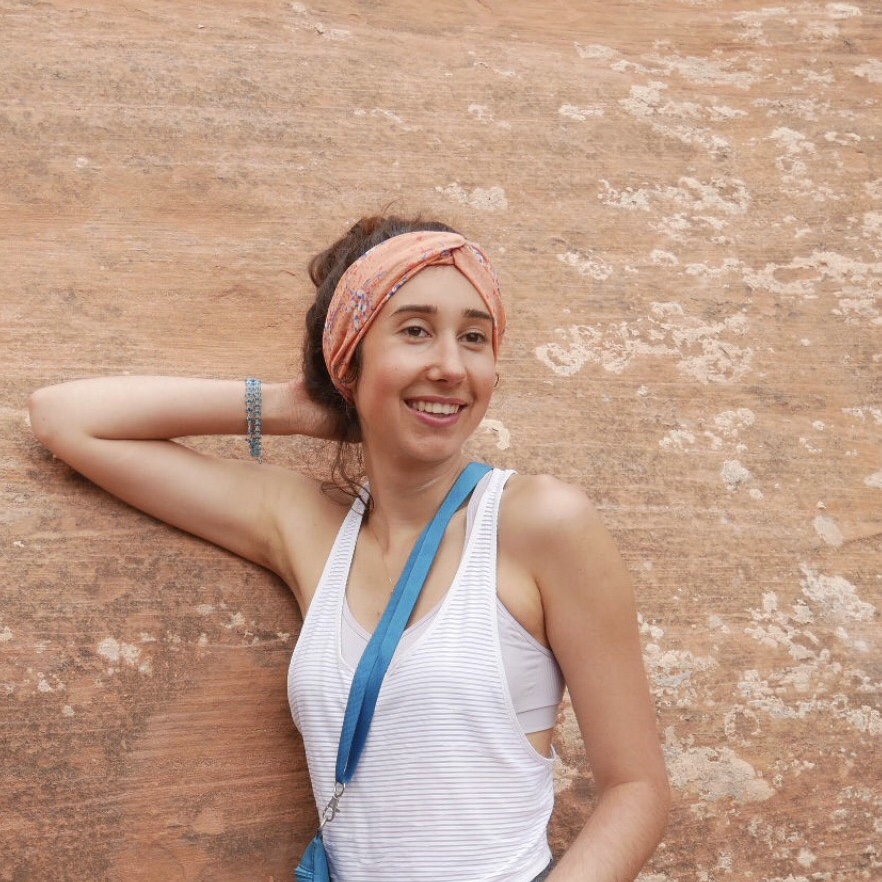 Elise Vanase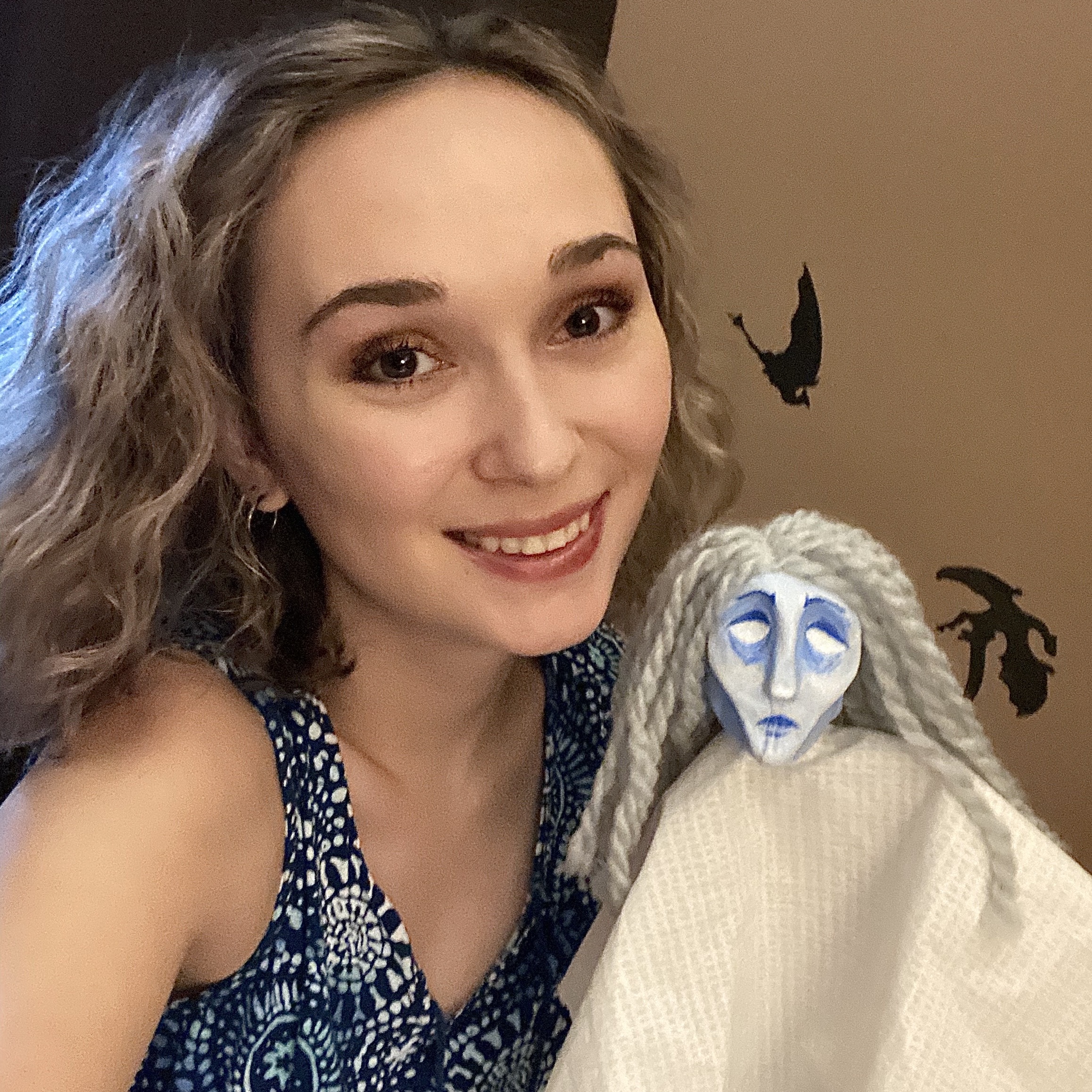 The UConn IDEA Grant program awards funding to support student-designed and student-led projects, including creative endeavors, community service initiatives, entrepreneurial ventures, research projects, and other original and innovative projects.
This year, three students from the School of Fine Arts received grants for their work:
Michaela Abate '21 (Art, project title "The IN/BETWEEN")
Maria Mandoiu '21 (Music, also Anthropology, project title "The Uneven Meter of the Romanian 'Soroc' Dance)
Elise Vanase '21 (Puppetry, project title "Remnants: A Post-Apocalyptic Puppetry Play")
David Calamari Interns at Studio 54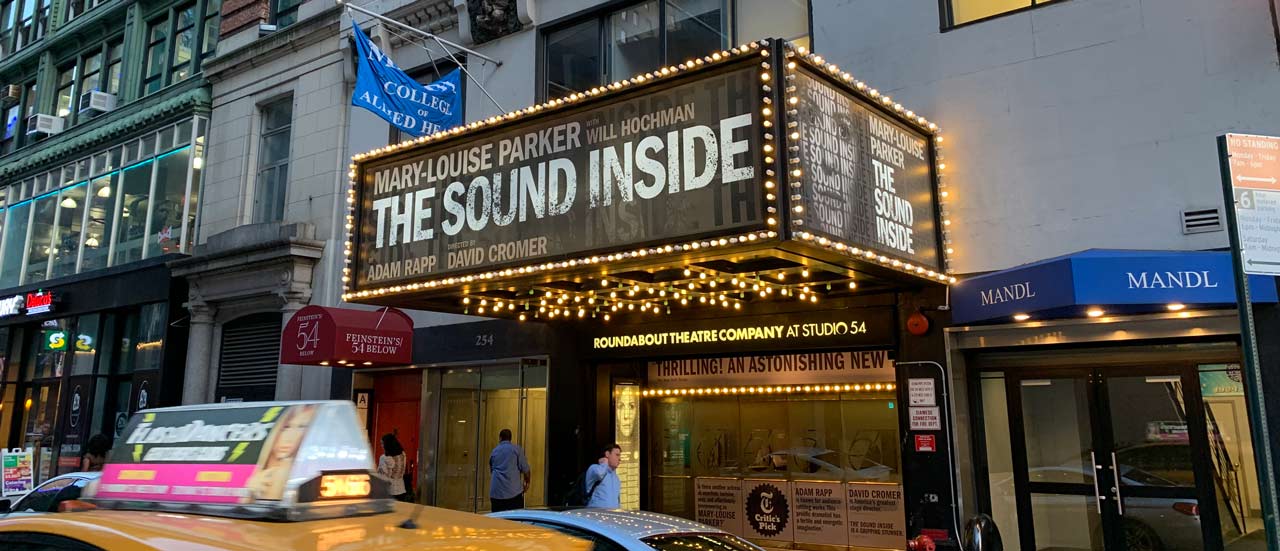 Every student who completes an internship experiences a moment when reality hits, and their studies feel less like coursework and more like a career. This is particularly true for David Calamari, a junior in the School of Fine Arts' department of dramatic arts who found himself interning on Broadway last fall.
David came to UConn from Scarsdale, N.Y. to study design and technical production with a focus in scenic design. He received an IDEA Grant to support his proposal to produce a theatrical haunted house, but when the project hit too many obstacles, he sought help from his academic advisor, Alexander Woodward.
"I had a conversation with Alexander, and he told me that he was designing a show on Broadway, The Sound Inside," David says. "'He invited me to come to New York to work with him on the production."
David worked with his professors to customize out a system for staying up-to-date with his classwork, and within days he was meeting the production crew at the Studio 54 theatre.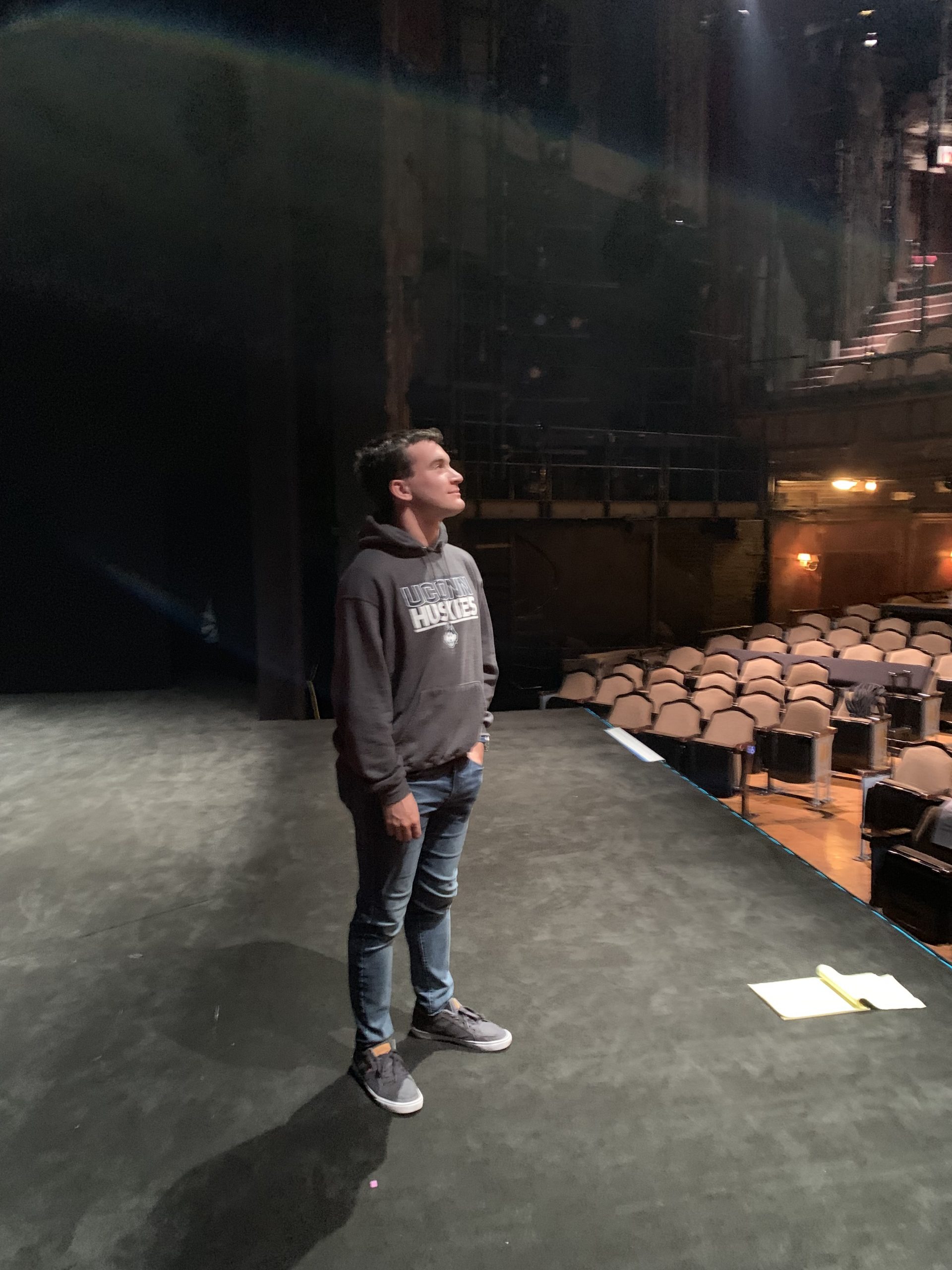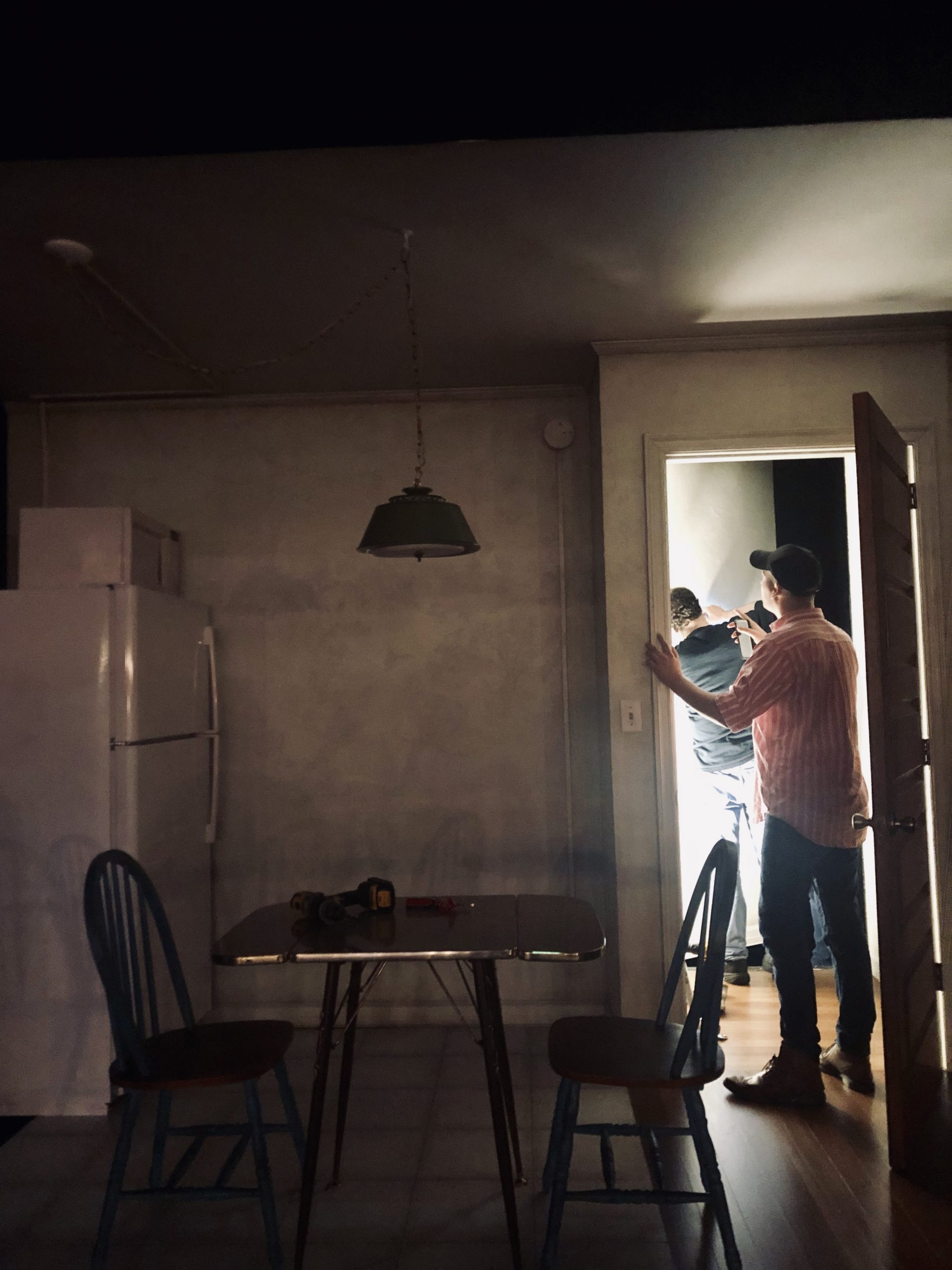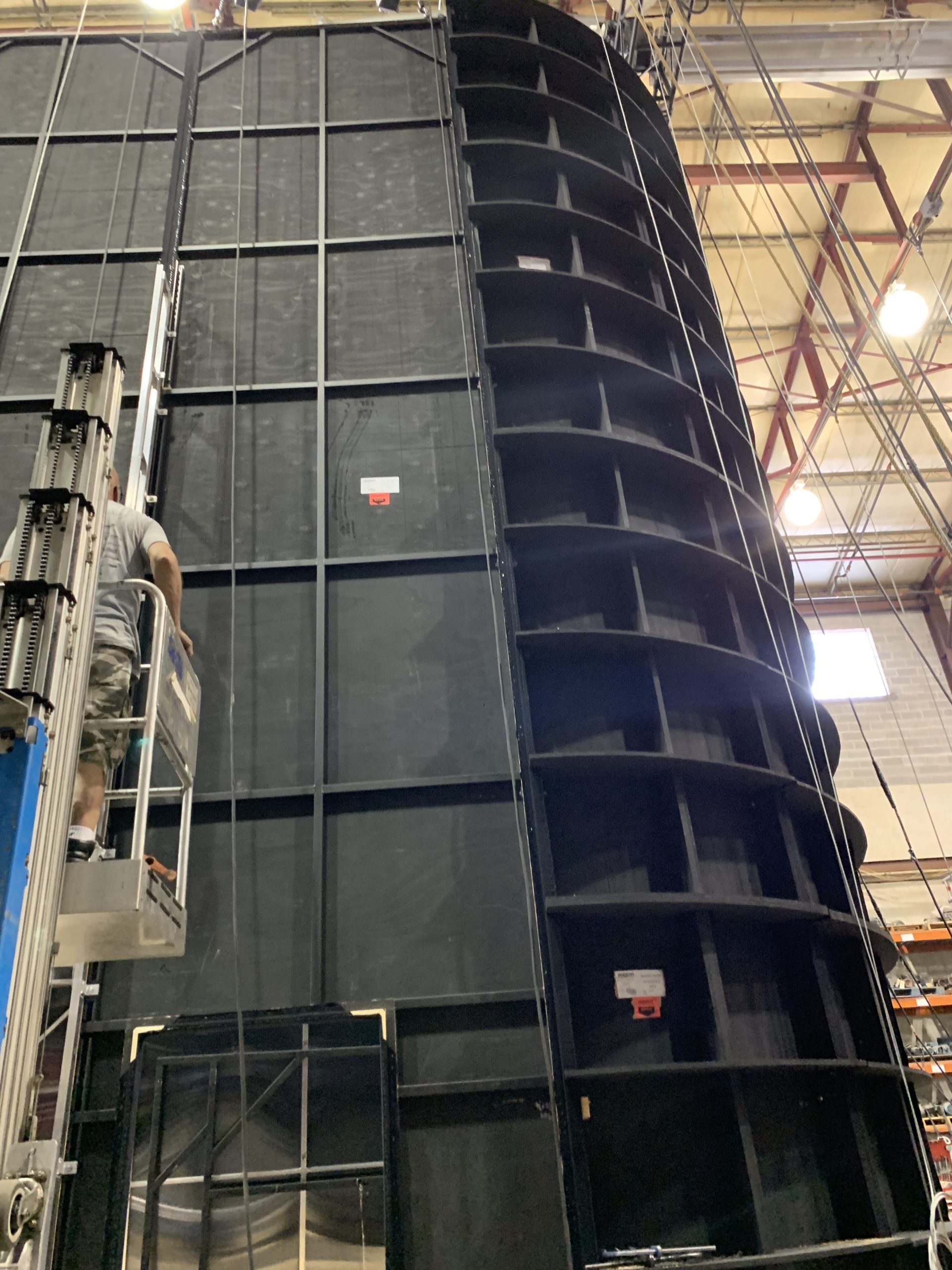 Each day presented a new experience. During the first week, David attended rehearsals in the studio and worked with Alexander to complete the set installation. His prior design work for the Connecticut Repertory Theatre's production of Men on Boats informed his understanding the set design process, and how to translate a small model to a larger-than-life stage.
"Sitting in with Alexander allowed me to see what the process was like for a Broadway show, and also see how the production team collaborated with each other," David explains. "The experience reinforced my desire to work in live theatre. The people I met during my experience were all fun, caring, and enthusiastic about what they were doing, and being around that kind of energy is something I absolutely love."