A Message from Anne D'Alleva, Dean, School of Fine Arts
2021 Banner Carrier | Devin Quinn
Each year, the role of banner carrier rotates departments. The student with the highest cumulative grade point average in that department is given the honor of carrying the School of Fine Arts banner as they lead the procession into the Commencement Ceremony. This year's department is Digital Media & Design, and this year's banner carrier is Devin Quinn.
2021 Class Print
Each year, the Art & Art History faculty in printmaking select a graduating senior to produce a limited edition print to honor the graduating class. This year's class print artist is Rhiannon Zergiebel.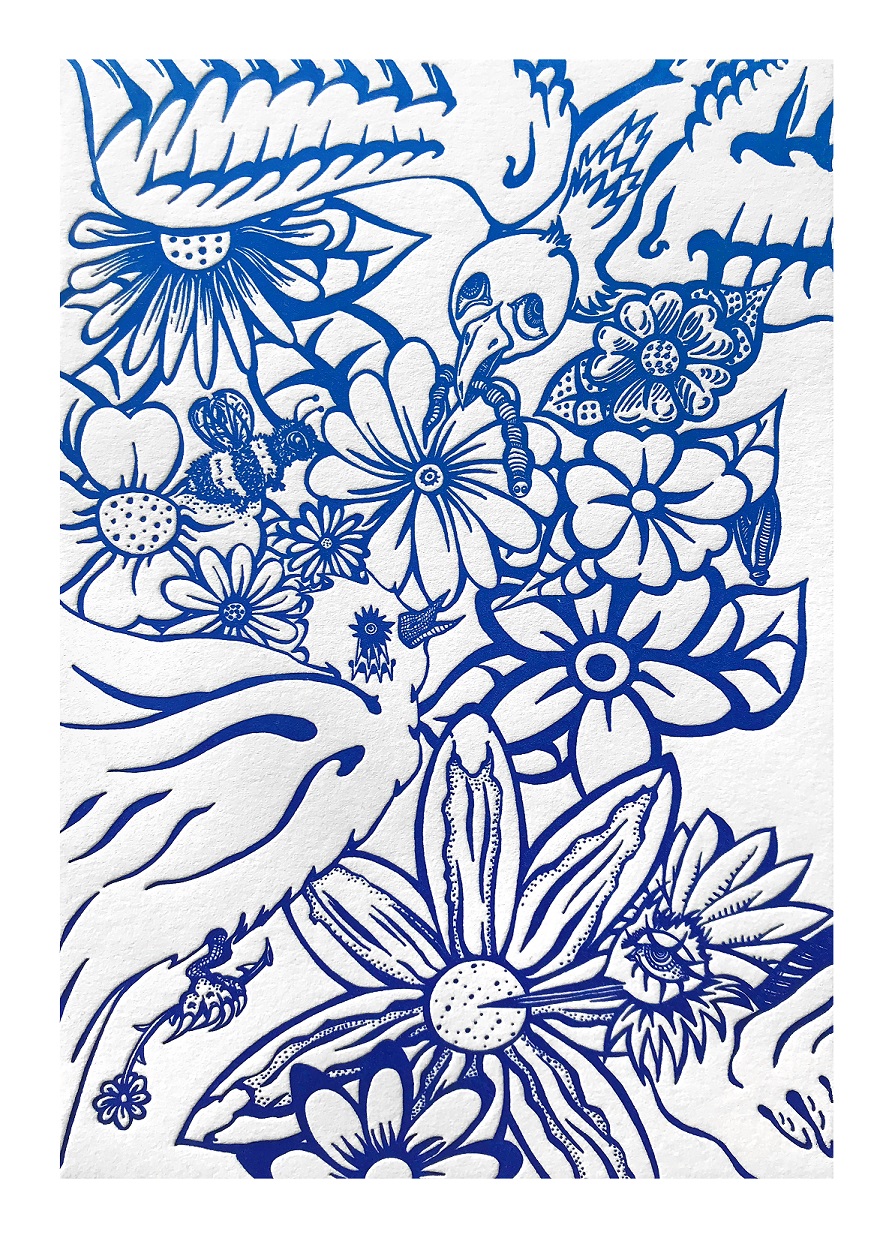 Artist Statement
Blue Skies, 2021, photopolymer letterpress print on paper, editioned on an antique Vandercook press.
This print portrays a fantastical garden, packed with birds, flowers, bees and a chrysalis. The drawing, initially springing from a stream of consciousness approach, has coalesced into a distinct, graphic image; one that symbolizes hope for the future.
Being masked for over a year due to the pandemic, we have needed to rely on greater eye- contact; to search for the subtleties of expression; and to better comprehend the message and meaning in conversations. In this print I drew the birds' eyes to look almost human, peering out with knowing looks, as if they might sympathize with those who have experienced tragedy and loss. These birds can also symbolize promise and celebration, as they are surrounded by flowers and capable of flying to faraway places. The butterfly cocoon under a leaf at the edge of the composition evokes a familiar yet relevant metaphor of transformation; during our time at UConn we have changed in so many ways. Students in the School of Fine Arts have shared a collective experience of learning and growth. Now it's time to stretch our wings.
Artist Biography
Rhiannon Zergiebel is from Guilford, CT and is receiving her BFA degree in Fine Arts with a concentration in Printmaking. She has won several awards for her artwork including the Gus and
D'Ann Mazzocca Award for Printmaking and the University Art Scholarship. Under the mentorship of Professor John O'Donnell, Rhiannon was chosen for the Social Sciences, Humanities, and Arts Research Experience (SHARE) Award. Rhiannon's prints, drawings, paintings, and animations explore ideas around memory, dreams, and story, as she looks for ways to make her stream of consciousness tangible.
From SFA's Hearts to Yours
The entire School of Fine Arts community, including alumni, donors, faculty, staff, and friends, all extend our warmest wishes to the class of 2021. Although we're not physically together to celebrate commencement today, we look forward to seeing everything you accomplish as you enter the world as a Husky alum! Check out these messages from some of your many supporters!
2021 Undergraduates
Note:  Italics indicate December 2020 graduates; as with last year, * is for New England Scholars, BOLD is for Babbidge Scholars
Art
Master of Fine Arts:
Joseph Caster, Shelby Charlesworth, Rachel Dickson, Shawn Michael, Martha Pawlowski
Digital Media & Design
Master of Arts:
Ryan Quigley, Maria Raykova
Master of Fine Arts:
Emma Atkinson, Yucheng Hang, Hongju Lim, Wechao Lou, Claudia Nunez, Renoj Varghese
Dramatic Arts
Master of Arts in Acting:
Thomas Morgan
Master of Arts in Performance/Production:
Chandler Caroccio
Master of Fine Arts in Arts Administration:
Justin Chapman, Terence Lacasse, Haw-Chen Wu
Master of Fine Arts in Design:
Samuel Biondolillo, Zachary Broome, Xurui Wang
Master of Fine Arts in Design/Puppetry:
Kevin Smith
Master of Fine Arts in Puppetry:
Felicia Cooper, Robert Cutler
Master of Fine Arts in Technical Direction:
Aubrey Ellis, Kimberley Kinan
Music
Master of Arts in Music Theory:
Liana Stampalia
Master of Music in Conducting:
Anthony Pandolfe
Master of Music in Performance:
Nadia Aguilar-Steinberg, Angela Garcia Clark, Adiel Najera, Kara Williams
Doctor of Musical Arts in Performance:
Evan Glickman, Caroline O'Dwyer, Mo Tian
Doctor of Philosophy in Music Theory & History:
Laura Hibbard