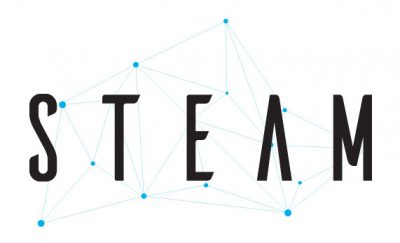 Building up STEAM: Collaborations between the Arts and the Sciences
Wednesday, February 7, 5:30-7:30 p.m.  - POSTPONED TO A LATER DATE DUE TO WEATHER
Please join us for an open forum on current and future developments in STEAM at UConn and beyond.
We hope to generate a wide-ranging discussion, structured around brief remarks by invited speakers drawn from faculty across the university and from industry. The event is open to all UConn faculty, staff, and students, and to the general public. Refreshments will be provided.
For further information contact Alain Frogley (School of Fine Arts) at alain.frogley@uconn.edu/ 860-486-4783, or Jennifer Pascal (School of Engineering) at jennifer.pascal@uconn.edu/ 860-486-3604
Animating Science: Digital Arts in STEAM Education
An article about the Digital Media and Design "Animating Science" course designed and taught by Anna Lindemann. The class involved collaboration with the Ecology and Evolutionary Biology (EEB) / Journalism "Science Communication 2" course, and faculty and staff from EEB and the Connecticut State Museum of Natural History.
Animating Biological Concepts
An article about projects developed for the "BIOL 1107 Principles of Biology" lab course at UConn by animators and illustrators in the cross-listed Digital Media and Design and Art and Art History "Scientific Visualization" course designed and co-taught by Alison Paul and Anna Lindemann.
AntU: Learning from the Complex Society of Army Ants & Their Guests
A website documenting endeavors by multiple departments and schools across UConn exploring how army ants and their guests can inspire synergy across science, fine arts, and the humanities.