As a youngster growing up in Romania, Ana Crăciun-Lambru '16 MFA put strings on her dolls, turning them into marionettes and performing in her bedroom. She would go on to earn a degree in puppetry from The National University of Arts in Bucharest. While working as a freelance puppeteer, she found information about a Fulbright Scholarship opportunity and the Puppet Arts program at UConn.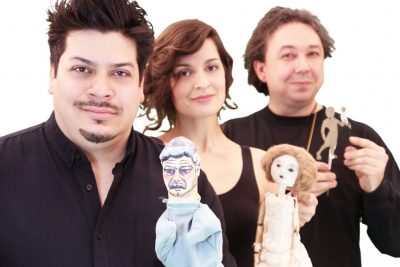 Crăciun-Lambru's new puppet production, "Dust," is part of the Connecticut Repertory Theatre celebration of 50 years of Puppet Arts at UConn during The MFA Puppet Arts Festival, March 24 to April 3 at the Studio Theatre.
The three original one-act plays at CRT range in topic and style. "Dust" is inspired by the 1911 Triangle Shirtwaist Factory fire in New York City and incorporates shadow and object puppetry. "Ok, I Love You, Bye" by Gavin Cummins '16 MFA is a one-person play using various styles of shadow puppetry. "El Beto" by Kalob Martinez '16 MFA molds Macbeth into a story of lust and blood set in the midst of the Mexican Drug cartel.
A fourth original production, "ECHO" by Christopher Mullens '16 MFA, will take place at the Ballard Institute and Museum of Puppetry in conjunction with the CRT shows. ECHO is a multi-media immersive spectacle combining puppets, digital projection and original music in the re-telling of a classic Greek myth.
To read the entire article, visit UConn Today!
The CRT production of the MFA Puppet Arts Festival will be performed March 24 to April 3 at the Studio Theatre, 802 Bolton Road, Storrs. "ECHO" will be performed in conjunction with the Festival at the Ballard Institute and Museum of Puppetry, One Royce Circle, Storrs. For more information on the MFA Festival, go to crt.uconn.edu and for "ECHO" to bimp.uconn.edu. There will be an additional free presentation of Krista Weltner's MFA stop motion film project at 5 p.m. in the Studio Theatre on March 26 and April 1, 2, and 3.